Gauder Akustik Arcona 40 Loudspeakers

By Keijo Tanskanen

Foreword
You may have heard of Isophon speakers and good feedback of them. For a short time ago, Isophon was renamed Gauder Akustik, and even for a shorter time ago, TL Audio decided to import Gauder speakers in Finland. Mr. Tapani Lappi, a chief in TL Audio, is well-known as a demanding audiophile and as a friend of big and accurate sound. If he decides to take an import, the product must be good and certainly has a couple of specific strengths. Lately, I had an opportunity to make a short test of Arcona 40, which is the smallest one in the Gauder's Arcona-series.

I listened to Arcona 40 in TL Audio's listening room with Devialet 170 amplifier, Olive music server and Bertram signal cabling. The room was slightly too big for the speakers and this naturally affected more or less the evaluation of the sound. Anyway, the effect was much smaller than expected! Tapani had setuped the system carefully and had burned the system in for a couple of weeks, but referring to his attitude, not quite enough. I trusted to Tapani's positioning of the speakers and actually did not see (~heard) any reasons for further adjustments. Unfortunately again, my session was quite fast and took a bit less than two hours. Anyway, very well-known music samples, partner equipment and listening room enabled making solid and deep enough notifications.

Technology
Arcona 40 is a two-way stand loudspeaker. Its sealed and very dead enclosure tapers slightly to the rear and has excellent WBT-Nextgen binding posts. For Arcona 40, Gauder has chosen an Air Motion Transformer (AMT) for high frequencies and a 7" Accuton ceramic cone for the midrange and bass. The cone is mounted very rigidly into the box, partially by the help of an aluminum membrane. One of the Gauder's fingerprints in their speakers is using complex and highly sloped crossovers. This is true for Arcona 40 as well. By the help of this and the AMT treble driver's high power reserves, the dynamic range of the speaker has been widened remarkably. As a load, Arcona 40 is quite demanding, requiring a powerful and stable amplifier – namely, the impedance drops to 2.4 ohms in the bass region. Based on the principles and size, the speaker is recommended into rooms sized up to 25 square meters.

Specifications:
Operational Principle: 2-ways, closed-box
Woofer: 1 x 7"
Tweeter: AMT
Nominal impedance: 4 ohms
Sine wave power handling: 100 Watts
Dynamic range: 91 dB
Height: 36 cm
Width: 21 cm
Depth: 33 cm
Weight: 12 kg
Warranty: 10 years!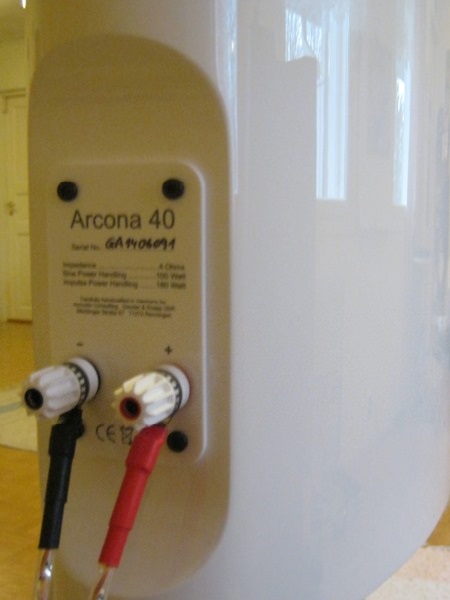 Listening
After the start, I was quite soon struck by the resolution which the Arconas were capable of delivering. That was not done by cheating, for example by treble emphasis, but due to the high quality speaker design, which enables reproduction of the rapid dynamic contrasts even in the very low level. Besides this, the articulation of the melodies was also crisp and precise, rendering a good phase control. Quite a stunning start of listening!

The balance seemed to be slightly on the bright and lean side, which surely grounded partially on the big listening room. Nevertheless, the level of the defect was absolutely not intrusive or disturbing, and some music samples delivered still very natural like timbres of instruments. I'm quite sure that the final neutrality will be more dependent on the partner equipment and room acoustics than this kind of tendencies of the speaker. So, Arcona 40 was absolutely neutral enough.

The speaker sounded also very consistent all through its bandwidth capability. The bass passages were at least almost as accurate as razor sharp piano and guitar notes, including their harmonics. The bass was also quite extensive and very well controlled when played in limits of the recommended dynamic range. Although the midrange seemed to be a bit more prominent than the bass, both bands had the same kind of punctuality and clarity. Nor did the treble make a disappointment. It was surprisingly open and all the cymbals, chimes and triangles sounded very natural. Actually, the presentation was the best I have heard from the AMT tweeter.

The speakers of this size are usually quite restricted in maximum dynamics. Anyway, Arcona 40 could spit out quite impressive volume levels without significant distortion and clipping. In my listening, I turned the volume approximately up to 90 dB and the sound was still clean. Actually, there are plenty of two way speakers which would have reached their edge performance a long before this point! Still, for my personal listening purposes, Arcona 40 has slightly restricted dynamic resources. But, if you can live with a little less, Arcona 40 does a solid fulfillment also in this feature.

With my music samples, the Arcona 40 rendered superb transparency and plenty of air, focus and dimensionality in its sonic view. With certain bigger speakers, you will find more extensions, especially vertically. However, this will be achieved at a price. Arcona 40 is a speaker which sounds bigger than commonly presumed, definitely!


Summary
I really liked a lot of the performance which Arcona 40 delivered during the listening. It showed its nature with no excuses, to which it actually has no reasons. Besides its very high sound quality, owners will enjoy tremendous finish and use of the speaker. Arcona 40 costs 2000 euro/pair which is double of the price of Epos Elan 15. As good as Epos Elan 15 is, the Arcona 40 is a better speaker. Of course, if it is actually better enough, must be considered individually. As a whole and with my preferences, Arcona 40 is so far the best speaker I have heard in this price range. I could swear that after the Arcona 40 and other Gauder Acoustics speaker's income, the hard speaker competition will be even harder in Finland.

More information:
http://www.gauderakustik.com/en/arcona-40en

Manufacturer:
http://www.gauderakustik.com/en

Importer:
http://www.tlaudio.fi